Learn About Our IT Experts
Benton Technology Solutions is an IT services company, located in Durham, NC. We are a close-kit, family-owned business that serves clients all over North Carolina. The company was founded in 2009 by Troy Benton, an Army veteran and UNC-Chapel Hill graduate. 
At Benton Technology, we always put our clients first. Our mission is to provide expert services at competitive market rates with impeccable customer service. From VoIP services to network support, we have our clients' backs for anything they need. 
If you're in need of IT help, contact our team today! We look forward to hearing from you and helping you with all things IT.
Troy T. Benton, Owner & President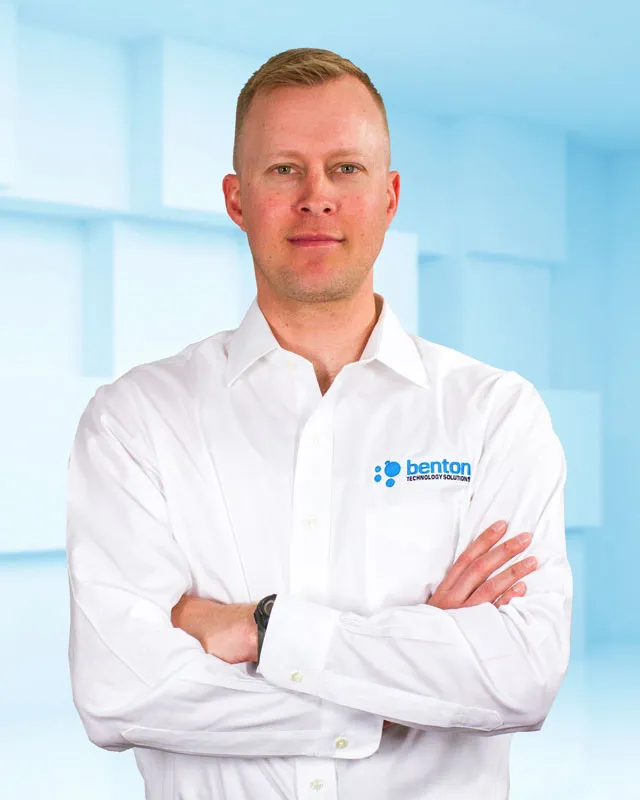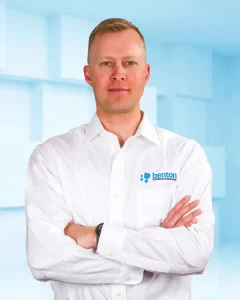 A native of Goldsboro, NC, founder Troy Benton originally moved to the Triangle to attend UNC-Chapel Hill in 1997. Troy graduated in 2001 and joined the North Carolina National Guard in 2002. Over the following few years, his military and IT careers took him from Arizona to New York City to the Middle East. After a nine-month deployment to Afghanistan in 2008, he returned to the Triangle to start a family and his own business. He and his wife, Holly, live in New Hill with their three young daughters.
---
Adam Williams, Vice President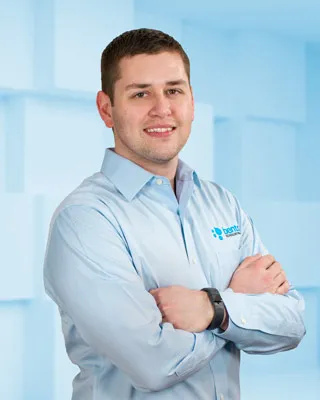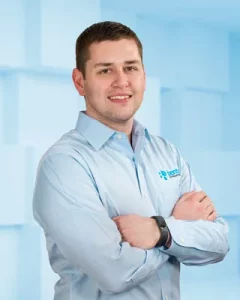 A true Raleigh native, Adam joined Benton Tech as the first hire back in 2011. He studied Engineering at NCSU and IT at New Horizons. He has achieved many certifications to advance his career in the field and continuously looks for ways to improve leadership. Adam and his wife Alexandra recently welcomed their son Ashton into the world. He likes playing disc golf, gaming with friends, and rucking through local parks.
---
Patrick Post, Information Technology Manager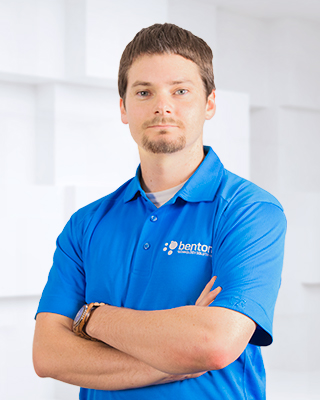 Born and raised in Raleigh, Patrick now lives in Apex with his wife Angie and their two children (Ryleigh and Luke). He attended Appalachian State University where he studied criminal justice and business. He has a CompTIA IT Operations Specialist certification and is an Eagle Scout. In his free time, he enjoys sports and video games.
---
Adam Piasecki, Information Technology Supervisor L1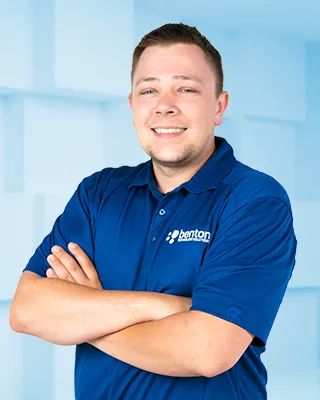 Adam relocated to North Carolina after growing up in south Jersey. He graduated from Central Carolina Community College, where he studied Information Technology. He loves to play pool, play with animals, spend time with his friends and family, traveling, boating and spending time outdoors.
---
Holly Benton, Office Administrator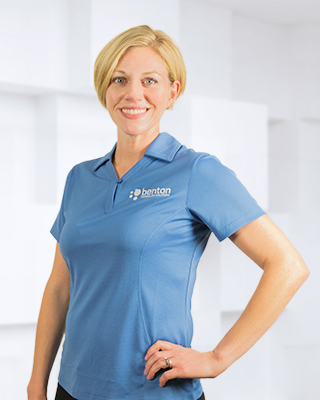 Holly graduated from UNC – Chapel Hill with a degree in journalism and marketing. She worked in various roles in that field until having their three daughters. After staying home with them full-time for a few years, she decided to use her background in office management to help Troy in the family business. She still stays very busy with the girls and their two golden doodles but she also enjoys traveling, working out, gardening and watching sports (especially anything Carolina).
---
Nicholas House, Information Technology Security Professional
Known as "Jr" due to starting at Benton at only nineteen, Nick started his IT career here after moving from Carlisle, Pennsylvania. Passionate about all things security, he loves to dive into new projects and ideas. With only a few
industry certifications, Nick is mainly self-taught but has plans to attend Wake Tech soon. He has a big interest in JDM cars as well as staying up to date with space-related news.
---
Connor Bachmann, Information Technology Specialist
Connor was born in Maryland, moving to North Carolina to finish his college career at UNCG. He graduated college with a bachelor's degree in
information technology. Thanks to his brother, Connor has been interested in the tech field for most of his life. Connor has enjoyed assembling computers and doing general troubleshooting since high school. Now living in Pittsboro, Connor spends his free playing video games, reading, and going out with friends.
---
Karney Thompson, Information Technology Specialist
Karney moved to Raleigh when he was about 8 years old. He was born in St. Thomas and moved to be closer to family. He graduated from Shaw University with an Accounting Degree and at Wake Technical Community College with a Web Developer Degree. He is also A+/Network+ certified and working towards being Security+ certified. He also enjoys going to the gym, gaming, and learning.
---
Ben Larsen, Information Technology Specialist
Ben was born in Oslo, Norway and grew up in Hampton Roads, VA. Ben and his wife Kendall relocated to Raleigh in 2020 with their cats. He is A+ certified and has various certifications from Microsoft and Google. Ben enjoys film photography, 3D printing, hiking, and skateboarding in his free time.
---
Chad Rose, Information Technology Specialist
Born and raised in Hillsborough, Chad is a recent graduate of UNC Charlotte where he studied Computer Science. Chad has over 3 years of experience in IT support since he worked as an IT Support Technician for UNC Charlotte. He also enjoys working out, playing poker with friends and playing video games.
---
Ka-seen Alston, Information Technology Specialist
Born in Durham and raised in Raleigh, Ka-seen lives in Knightdale with his wife and dog. Ka-seen attended Wake Technical Community College, where he studied Cyber Security. You can find him playing video games, traveling, or re-watching the X-Files when he's not working.
---